NADS 2017 Meeting: September 27-October 1
Welcome to the the North American Diatom Symposium (NADS) website. NADS is a biennial meeting normally held at field stations throughout the United States and Canada.

The meeting was first held in 1970 at Cedar Creek in Minnesota. Since that date, the gathering has been hosted at field stations in Florida, Colorado, Manitoba, Kentucky, Alabama, Ohio, Minnesota, Iowa, Wisconsin, and Michigan. NADS usually attracts 100-120 diatomists from North America and around the world. The meeting provides a student friendly atmosphere, ample opportunities to network and socialize, the ever-popular scum run, local field collecting trips, and lively auction of diatom related valuables. NADS is an informal society, that is, there are no formal officers or structure.
This meeting provides the opportunity to catch up with colleagues and talk to some of the foremost diatom researchers in a beautiful, natural setting, offered by the field station atmosphere that has become a tradition at the symposium.
The 24th NADS will be held on Sept. 27 - October 1, 2017 at Ohio State University's Stone Laboratory on Gibraltar Island in Lake Erie. This small island (6.55 acres, 0.026 km²) is part of the Lake Erie Islands archipelago and located just offshore of the town of Put-in-Bay on South Bass Island (2.482 mi², 6.428 km²). Historically, Gibraltar Island was an important lookout point for Commodore Oliver Hazard Perry during his successful Battle of Lake Erie against the British fleet in the War of 1812. Stone Laboratory has been a freshwater field station with research and teaching laboratories since 1895 and has been part of The Ohio State University since 1925. Stone Laboratory, the South Bass Island Lighthouse and the Aquatic Visitors Center at Put-in-Bay have offered field-based educational programs and research opportunities in biological science to thousands of participants, see webcam here. International symposium participants will present their work in diatom research including biodiversity, evolution, ecology, systematics, biological assessment, paleolimnology, and nanotechnology. In addition to the scientific program, the meeting will include traditional NADS activities (the Scum Run and auction). We hope you will join us in Lake Erie in late September for an exciting meeting!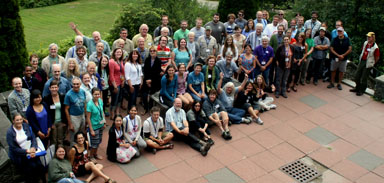 2017 Organizing Committee
Please contact the Julie Wolin or Jeff Johansen if you are interested in helping with NADS 2017!